Download Smarty Bubbles X-MAS free for Android and iOS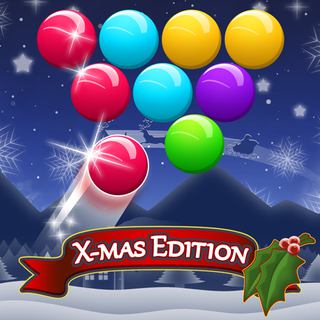 Smarty Bubbles X-MAS EDITION
The Christmas version of one of the biggest hits in the bubble shooter genre: Smarty Bubbles. Despite being based on this incredibly successful game, it will be a just as addicting Bubble Shooter Download as its older brother.
A true Top 10 Bubble Shooter
Smarty Bubbles X-MAS is very successful both on the web as well as in the App Store and Google Play Store. It will captivate you with the same formula as its non-season-related brother: a perfect mixture of excellent gameplay, a moderate challenge and the ever present motivation to become better and better every time you play it in order to beat your own high score.
This is a bubble shooter download that will not only entertain you during Christmas time. In fact, despite it's kind of frozen winterly looks, there is a challenging bubble shooter underneath. It is as simple as it is tough. Your goal: clear the field from all bubbles. Nothing more, nothing less. The problem: if you don't play strategically the bubbles will come closer and closer. If they reach all the way down to the red line, you're out.
We promise that you won't stop playing this jewel of a game for a long period of time. Once you have reached a certain skill there is a captivating spiral that will keep you coming back and become even better. Since the layout of bubbles on the field is completely random and will be different each time you play, you will have to adapt your play style and find the right strategy every time. It's not necessarily an easy game. It will take a little time until you figure out the right tactics to play. But in the end it is highly rewarding, if you identify and find your perfect strategy and achieve a new high score every time you play.
Just like the original Smarty Bubbles this game challenges you to remove all bubbles from the screen in the most efficient way possible. The highest scores are earned by those who play cleverly and plan ahead. If you remove big clusters at once you will receive much more points than for erasing only three bubbles at a time.
Free bubble shooter download
Of course Smarty Bubbles XMAS will run online on your Android smartphone and iOS device as well as on any PC or Mac. But if you want to play offline without any required internet connection you can always download the free app. There are no costs involved whatsoever.
If you're not in a Christmas mood or a fan of the Grinch, then why not try another game from this Top 10 list? We would recommend the original Smarty Bubbles or as an alternative with a little different approach the wonderful Candy Bubble
More Games